If Experience Counts, Count on RoadVantage. It's the theme of our new campaign, and you may have already seen some of our new ads featured in industry publications: a photo of myself and my partners here at RoadVantage, smiling for the camera. It's nice to see the faces of the leaders behind any company, but for me, this new campaign is about a great deal more than a headline and a photo. Behind that image are years of hard work in the automotive industry, starting from the ground up – challenges, mistakes, exciting breakthroughs, and frustrating setbacks – leading to learning, growth, progress and success…followed by new challenges, mistakes, growth and success.
Over the last 30+ years that my partners and I have been in this business, the world of F&I – the products, the dealers who sell our products, the consumers who buy them, the tools and processes we use to buy and sell them – have all evolved dramatically. We've witnessed these changes, we've responded to them, adapted with them – and, in many cases, we've spurred them.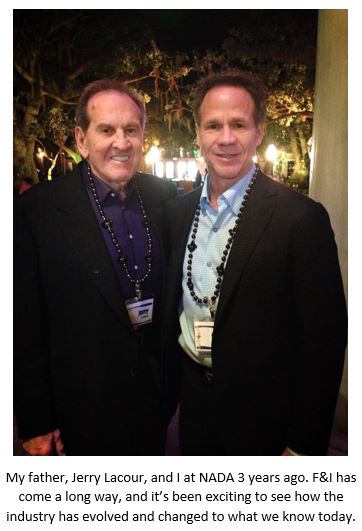 And we do that because we live and breathe this business, we know its intricacies and its challenges, and if there's anything we've learned, it's that we must continuously evolve if we are to succeed. To stay ahead in this game, we need not only an in-depth understanding of this industry, but the vision, and the passion, and the know-how to take it to the next level. It's more than just empty words; between us, our top three executives — myself, Reese Hillard, and Randy Ross — have almost 100 years of combined dedication to the automotive industry. That's 30+ years each, spent dedicating our lives to making this industry better on every level.
And that's only three of us. Our employees are the heartbeat of RoadVantage, and they are the ones who execute our mission of providing an exceptional customer experience. They put the people — our dealers, agents, and consumers — first and prioritize building lifelong, loyal relationships based on mutual respect and great service and products.
Our rockstar claims representatives have years of experience as well, and receive 5-star reviews. Our seasoned sales team crisscrosses the country to share our story and comes back with new ideas from our agents and dealers. Our marketing team leverages decades of experience combined with a fresh perspective from other industries to ensure we stay on the cutting-edge. And our operations team is constantly refining and evolving our processes to ensure we are at the top of our game.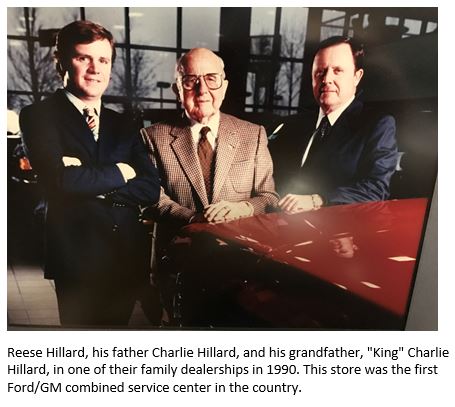 We have a deep and abiding passion for this industry. Our objective isn't about just selling more products, but about creating success on every level — for agents who represent our products, for dealerships who put us on their menus, for consumers who ultimately purchase our coverages – and for everyone who calls in a claim, and has the peace of mind that they're getting what they were promised.
"I am incredibly proud to be part of building a company that is built on integrity. We value the people first, and the products and services follow," says Hillard, our Senior Vice President. "I am a third-generation 'car guy,' and a passion for the automotive business is built into my DNA. I can't imagine doing anything else, or with anyone else other than this amazing team we have built together."
"I've been in the car business since I was 19 years old," adds Ross, our Senior Vice President of Sales, "and what we are doing at RoadVantage is taking that to the next level. I've never worked with or for any other company that puts the people first to this degree, or that has built such a passion into the very fabric of everything we do. Our first 5 years have been an incredible journey, and I cannot wait to see where the next five take us."
Experience is what allows us to not just recognize the patterns and trends, but to know how to navigate them: where new opportunities exist, when to forge ahead with an exciting new idea, when to jump on board with a trend we think has promise, and when to sit back and see where things go. It gives us insight into the changing needs of consumers, with solid plans for how to ensure we are serving what they want and need today, not what they might have needed yesterday – and how to anticipate what they'll need tomorrow. We have served as dealers, owners and salesmen. We know what it's like on the showroom floors and the F&I office. We get it. And we have built a company around making F&I better. This is our industry, and we care deeply about creating success for everyone involved. We will continue to serve, in any way we can, while setting new industry standards in the process.
So, when experience counts, count on RoadVantage.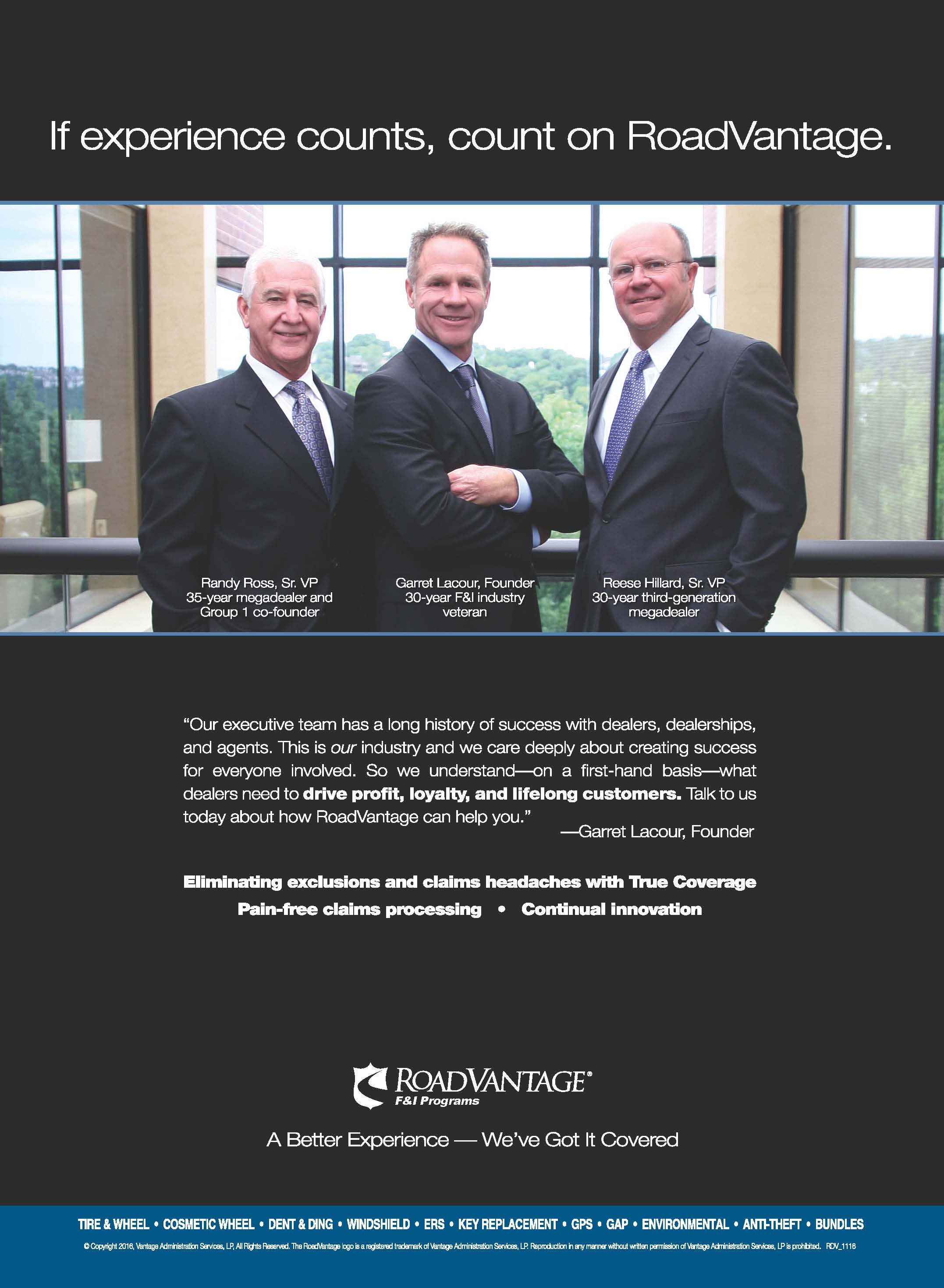 Click here to subscribe to our blog.