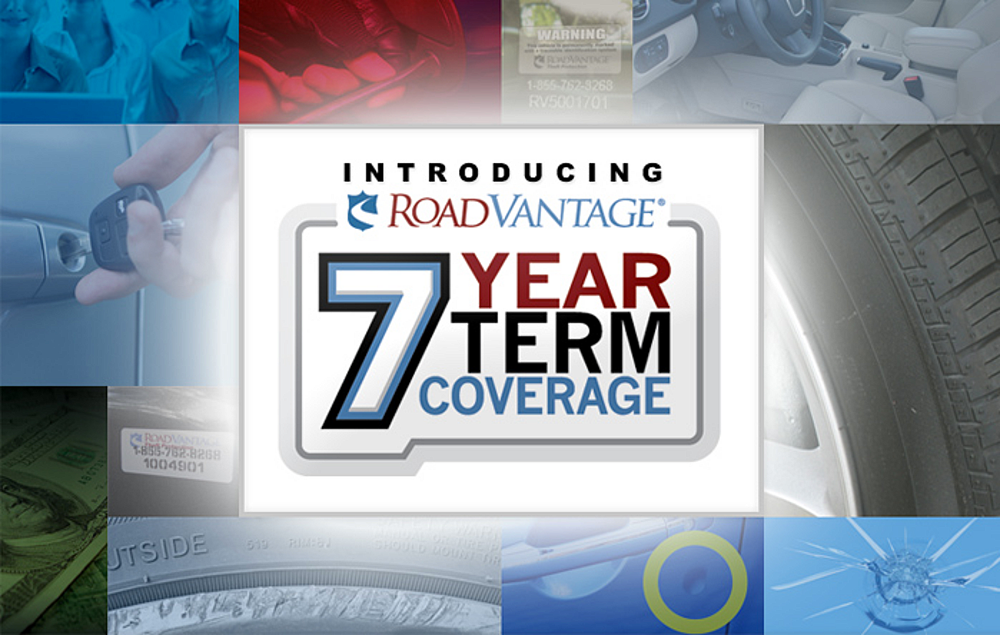 Progressive F&I Products. Better Service. Longer Coverage.
AUSTIN, Texas — January 15, 2014 – RoadVantage, a provider of F&I programs for the automotive industry, announced yesterday that it is now offering coverage terms of up to seven years for its full line of ancillary products.
"Looking at the trend toward longer term auto financing, it only makes sense for ancillary products to follow suit," said Garret Lacour, CEO of RoadVantage. "While service contracts, GAP and environmental coverages may go up to seven years, no other provider offers seven-year terms on the full line of F&I products. Having the option to match coverage terms on ancillary products with all loan terms is the next logical step, and it hasn't been available until today."
RoadVantage new offering of six- and seven-year coverage terms on all products, including its full suite of standalone and bundled programs.
"This is another demonstration of RoadVantage's forward-thinking approach to F&I," said Alan Miller, senior vice president of sales at CNA National, which announced an alliance with RoadVantage in September 2013. "Superior customer service and product quality, and now it offers the longest terms of any provider in the industry on all F&I products. This is the kind of innovation our clients seek."
Randy Ross, senior vice president of sales for RoadVantage, added: "By extending our coverages, we recognize and address another void. If auto loans last as long as seven years, why shouldn't F&I ancillary products? This is one more way in which RoadVantage strives to set a new industry standard in F&I."
7-Year Terms Q&A:
Q: For what products are you offering 7-year terms?
A: RoadVantage's complete line of F&I products, including both standalone and bundled packages, are included in the new extended terms. See our products page for more on our products.
Q: That's great you offer 7-year terms, but some of my clients would benefit more from 6-year terms.
A: RoadVantage offers 6-year-terms as well. We have extended coverage terms on our complete product line up to seven years, so you can choose the option that works best for your clients.
Q: GAP and Environmental products have offered 7-year terms for a while. What's new about your announcement?
A: This is the first time ancillary product coverage terms have been extended to seven years across the board, enabling you to sell coverage that matches all loan terms. See our press release for more information.