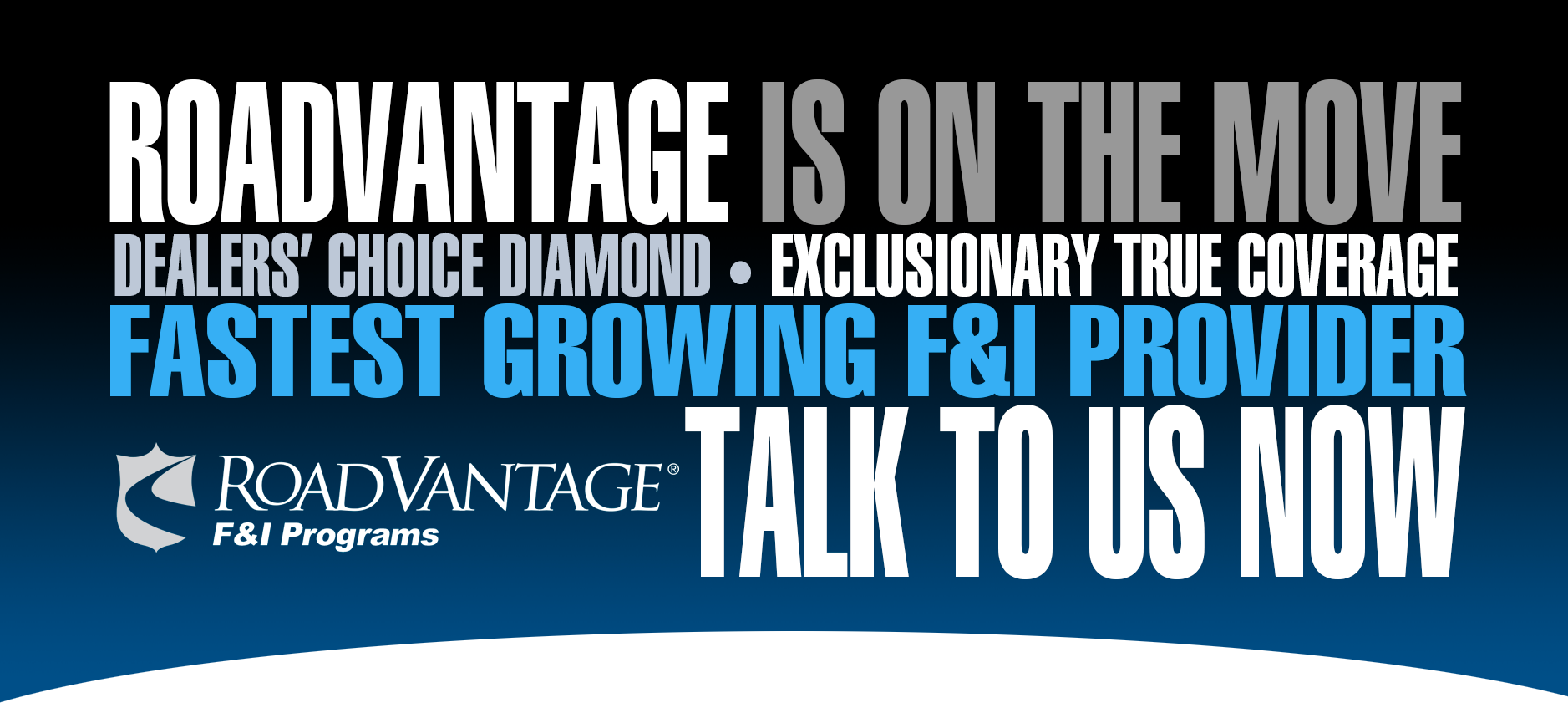 We're Seeking the Most Talented People in the F&I Industry
Join Us in Meeting Some of the Most Exciting Challenges in the Current Market
The next level of your career may be just one meeting away. Why not schedule a meeting with us today to see if our exploding growth fits what you want out of a positive work environment? RoadVantage is delivering real-world innovations to a market that is in rapidly changing.
Automotive retailers know that things are changing. They know that consumers are approaching dealerships often with more detailed product knowledge than the salespeople themselves. And with vehicle dealer cost becoming more public knowledge, dealers have learned that they need to evolve to prosper. That means F&I products and profits have become infinitely more crucial to the success of a dealership. And the stakes have increased for F&I providers to offer valuable products that customers will eagerly buy. With disruptive ideas such as multi-option bundled products and exclusionary coverage through Next Level True Coverage, RoadVantage is at the forefront of a rapidly changing business. RoadVantage is being recognized too, having been awarded the Dealers' Choice Award three years running, winning Diamond in 2017, the highest honor possible.
RoadVantage is also setting new standards for excellence in delivering on our promises. By leveraging technology, we've created the most efficient and streamlined claims processes in the industry. RoadVantage's industry leading service levels result in 98% of claims approved in seven minutes or less, and 99% of claims paid within 1 hour of receipt of the signed invoice. RoadVantage offers a full portfolio of ancillary products through certified agents and is headquartered in Austin, TX with regional offices in Boston, MA; Dallas, TX; Phoenix, AZ; Miami and St. Augustine, FL.
As an employer, RoadVantage has developed a unique culture. Of course we offer excellent compensation and benefits, but it is the people of our company that make it stand out. With visionary leadership, RoadVantage has built a workplace where everyone benefits, including dealers, agents, customers, and employees.
We understand that considering a career move can mean risk if you're currently employed elsewhere. We assure you that all calls and meetings will be held in the strictest confidence.
Call Steve Chandler today to schedule a time to talk: 214-263-1680