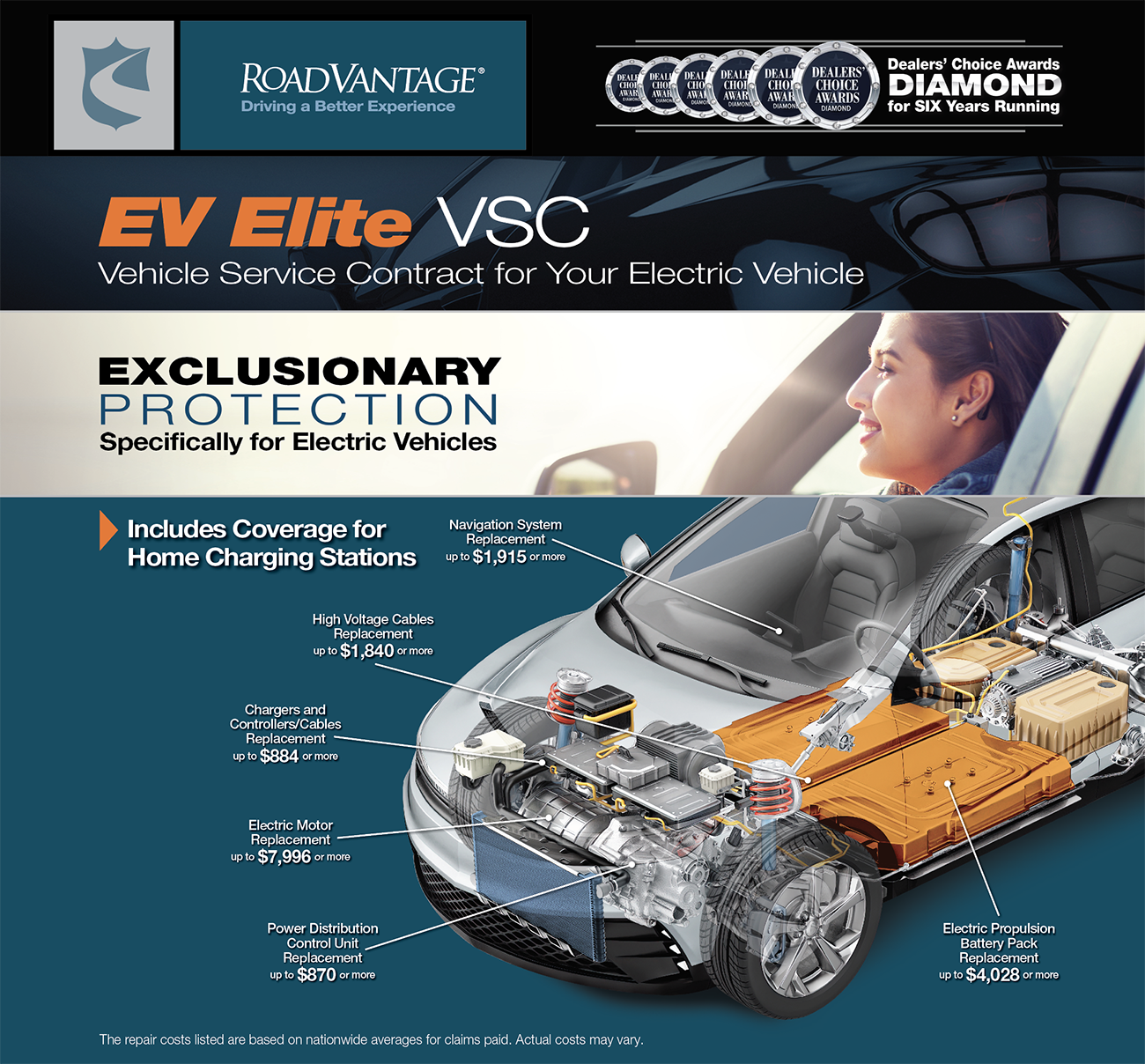 Since buying an electric vehicle is likely a new experience, RoadVantage EV Elite VSC coverage offers customers peace of mind. With technology that will be foreign to new buyers, this exclusionary EV product offers assurance their vehicle investment is covered beyond the factory warranty. Electric motors, propulsion batteries, high voltage cables, chargers and controllers/cables — even home charging stations — and a host of other components are covered. And RoadVantage coverage features the highest levels of claims service in the industry — just reference our average Google reviews from dealership Service Writers and customers.
Features & Benefits:
No Checkboxes • No Surcharges • Up to 12 years/150,000 miles  •  Dealer-controlled Deductible
Delivers the coverage today's educated customers expect
Substitute Transportation — Up to $50 per day for up to 7 days
Roadside Assistance — Up to $150 per incident
Includes enhanced mechanical EXCLUSIONARY COVERAGE for all these items and more!
Electric Power Train
Electric motor
Vehicle inverter/converter
Controllers and sensors
High voltage cables
Power distribution control unit
Charging
Propulsion battery
Chargers and controllers/cables
External home charging station
Brakes
Backing plates and hardware
Brake pedal assembly
Parking brake assembly
High-pressure hydraulic pump
And more
Steering
Power steering pump and reservoir
Steering pump pulley
Steering column shaft
Pitman arm
Idler arm
Tie rod ends
Steering linkages and more
Systems
Front and rear wiper motors
Washer pumps
Relays and delay switch/module
Backup light switch
Ignition lock cylinder
Power antenna motor and mast assembly
Ignition switch and more
A/C and Heating
Blower motor
Ducts and more

 
Convenience Accessories
Power window motor and regulator
Power door lock actuators and relays
Power trunk/tailgate motor and lock actuator
Power seat motor and relays
Power mirror motors
Retractable roof/convertible top motor
Sunroof motor
Rear window defogger
Memory seat
Heated seat elements
Swing away mirror arms and mounts
And more
Body/Utility Hardware
Headlamp mounting buckets
Bumper impact absorbers
Convertible top frame
Parking and side lamp bodies and sockets
Manual seat track assembly
Hood hinges, support, and springs
Hood latch and cables
Side door hinges and door handles
Trunk lid hinges
Trunk lid latch assembly
Running boards

 

Tailgate lock and cables
Tailgate hinges and latches
Brush guards and headlight grills
And more
​Also includes coverage for all other parts not specifically listed as excluded on the contract.*
*This is a summary of possible benefits available. Certain restrictions and limitations may apply. Please refer to the actual contract for specific details and limitations.
See contract for more specific details.
For information on how we can help, call RoadVantage Sales Toll Free: 855-680-2200