Co-written by: Melissa Anderson & Terry Sandlin
At NADA, RoadVantage announced our new Dealer Training Program designed to help dealers engage today's Internet-educated customer. For this initiative, we are partnering with The Academy, an Austin-based training center with comprehensive curricula covering a wide range of topics within F&I and sales operations. We recently had the opportunity to attend one of the F&I training classes, taught by F&I Training & Development Specialist Dave Perriton and Academy Director Tony Dupaquier. The Y.E.S. F&I Workshop is an intensive three-day course that proclaims to have "a progressive and innovative curriculum designed to help capture backend profits while maintaining high CSI levels." Needless to say, our interest was piqued to learn more.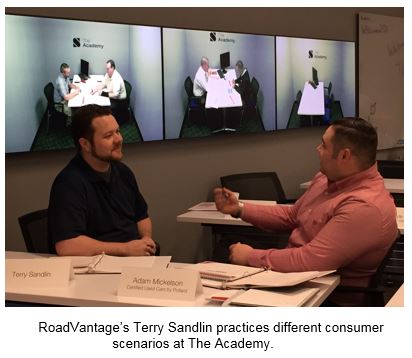 While other training programs focus on word tracks and speaking techniques, The Academy's training starts with a focus on listening techniques: hearing the customer and understanding the right questions to ask to ascertain their specific needs. Today's consumers are more informed than ever, thanks to smartphones and other mobile devices. Before consumers ever set foot onto the dealership lot, they have researched vehicle models, trims and prices – armed with information and ready to purchase that specific vehicle. This level of preparedness can pose a challenge for Sales Associates and F&I managers alike, who must be properly prepared to engage this customer. Instead of learning a flat pitch to memorize and regurgitate to every dealer customer, The Academy's training classes focus on listening and engaging with that customer, all while supporting the sales staff in their sale.
Along with teaching the primary functions of F&I within the dealership – securing the deal, protecting the dealer, ensuring the payment and developing additional income – the class also covered basics like what it means to be in the F&I "Box" and its evolution into the most valuable square footage in the dealership. The class dove into more in-depth F&I knowledge as well, including why certain terms or phrases are taboo due to specific legislation such as Magnuson Moss.
The fundamental difference in their approach at The Academy starts with the "why," as opposed to the "what" or the "how." While other training programs are teaching you how to sell, this one starts with why the customer wants what is being offered – resulting in the customer being curious about F&I products, rather than you "selling to" them. The Y.E.S. F&I Workshop revolves completely around the consumer, and The Academy focuses on giving F&I managers the necessary tools – listening cues, sample word tracks, various role-playing examples – to use as guidelines for engaging them. They emphasize taking this information and teach the F&I Manager how to adapt it to fit each situation. They also demonstrate how to improve upon each F&I scenario with a customer – not by pushing every F&I product onto the customer, but by nudging for more information and actively listening to the customers' values, lifestyle and needs.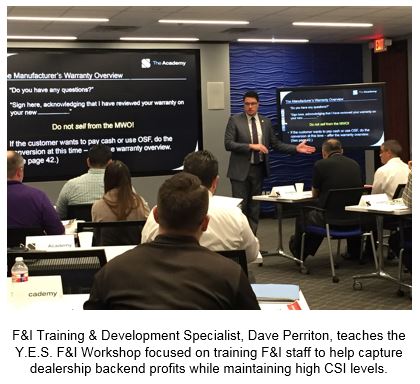 Of course, The Academy classes also provide the "how" – there are strategies, key words and phrases provided for closing an F&I deal – but these all come into play after building a trusting foundation with the consumer. Anyone can talk about product functionality, but The Academy's classes focus on teaching F&I managers to first recognize customer needs, and then explain why certain F&I products can be of value to them. An important concept to all of The Academy's training classes is transparency. Perriton and Dupaquier's methods focus on being upfront and clear with a customer. There is no need for deception or "fluff" when a properly trained F&I manager knows how to demonstrate the true value and convenience of each product to a customer. Ultimately, that's what makes a customer happy – feeling like they received all the facts in an open and honest manner in order to intelligently make a purchase decision.
Here at RoadVantage, we also start with the "why," instead of the "what" or the "how," and that's what spurs our mission to provide the best customer experience possible. The Academy's philosophy and approach parallels with ours, which is why we partnered with them. It's genuine F&I.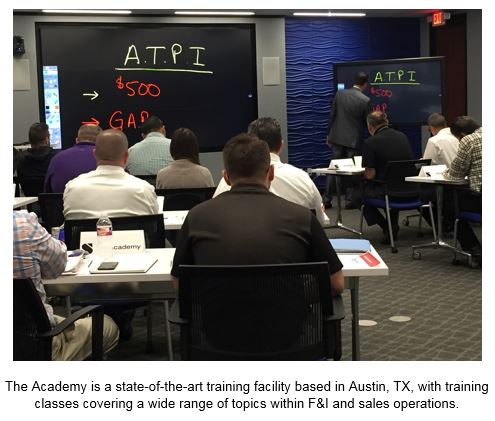 Click here to subscribe to our blog.