This week is the annual Thanksgiving holiday, in which those of us in the United States come together to celebrate our connections with each other, and everything in our lives that we are thankful for. This year, RoadVantage celebrated by hosting a food drive for the Central Texas Food Bank, raising over 200 pounds of food.
We are exceptionally proud to give back to our community, and to share some of the blessings that we have enjoyed this past year. We wanted to take this opportunity to thank all our partners, dealers and customers – without you, we wouldn't be here, and we are incredibly thankful for your support and your business.
We asked around, and our staff shared some of the things they are thankful for this year. We wanted to share it here with you, and wish everyone an exceptional close to 2016, and an incredible 2017!
Anna Rash, Marketing Project Manager – "I love coming into an office everyday where people smile, say hello, and truly care about one another. I'm thankful for the support system I have with RoadVantage."
Larry Morrison, Operations Manager, Claims – "I'm thankful for the talented staff in our claims department who go the extra mile to meet and hopefully, exceed the expectations of our customers and member service writers."
Mindy Dodd, Claims Adjuster – "I am thankful for the great group of individuals I work with every day, and the Service Writers who tell us they enjoy working with us on a daily basis. This says a lot about the Customer Service we provide."
Ian McPherson, Shipping – "I am thankful for being able to spend every day with good people and having the love of my family everywhere I go."
Lizzette Villarreal, Supervisor, Systems Management – "I'm thankful for the blessed life that I am allowed to live, and for the wonderful future ahead of me."
Amanda Andrews, Assistant Supervisor, Systems Management – "I'm thankful for health, friends, family, and working at an amazing company who genuinely values their employees."
Pam Moreau, Sales & Executive Assistant to Randy Ross – "I am thankful for the team I work with and the agents and dealers that we work with; 2017 will be a great year!"
Kyle Risenhoover, Regional Vice President – "Grateful to have such strong support from the corporate office when we're out soliciting new business."
Elsa Guzman, Accounting Assistant – "I am thankful that Austin is starting to feel like home. After 18 years in Colorado, I decided to move back to Texas and settle down in Austin (an entirely new city). I had a hard time adjusting after leaving all my friends and a job of 16 years. After a few not-so-great temp jobs, I was sent to RoadVantage. I am loving everything from the leadership, my coworkers and the overall feeling that everyone is just happy."
Lauren Hawkins, Compliance Manager – "I'm thankful to work with a group of people passionate about what they do, from the top executives, to my team, and everyone in between."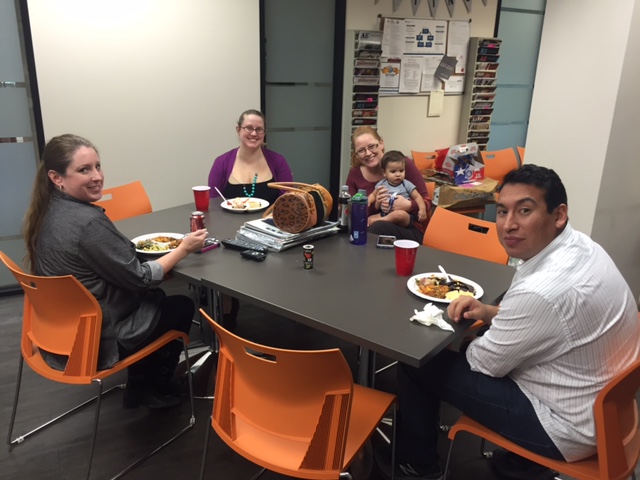 A few employees enjoying the office potluck earlier this week.
Click here to subscribe to our blog.