A story in Automotive News, published in late November, referenced a J.D. Power study which came to a surprising conclusion: Gen Y buyers are just as likely to buy F&I products as any other generation.
For years now, we've all been hearing the warnings that Gen Y isn't as interested in purchasing cars, and when they do buy them, they are far more likely to eschew all F&I products. This study has firmly debunked that myth. It found, in fact, that F&I sales are consistent across the board, no matter the age of the buyer. Baby Boomers might still control the majority of the income in the United States, as one of our previous blogs noted, but this study proves that the younger generations are buying just as many F&I products when they do commit to purchasing a new vehicle — if not more — as their older relatives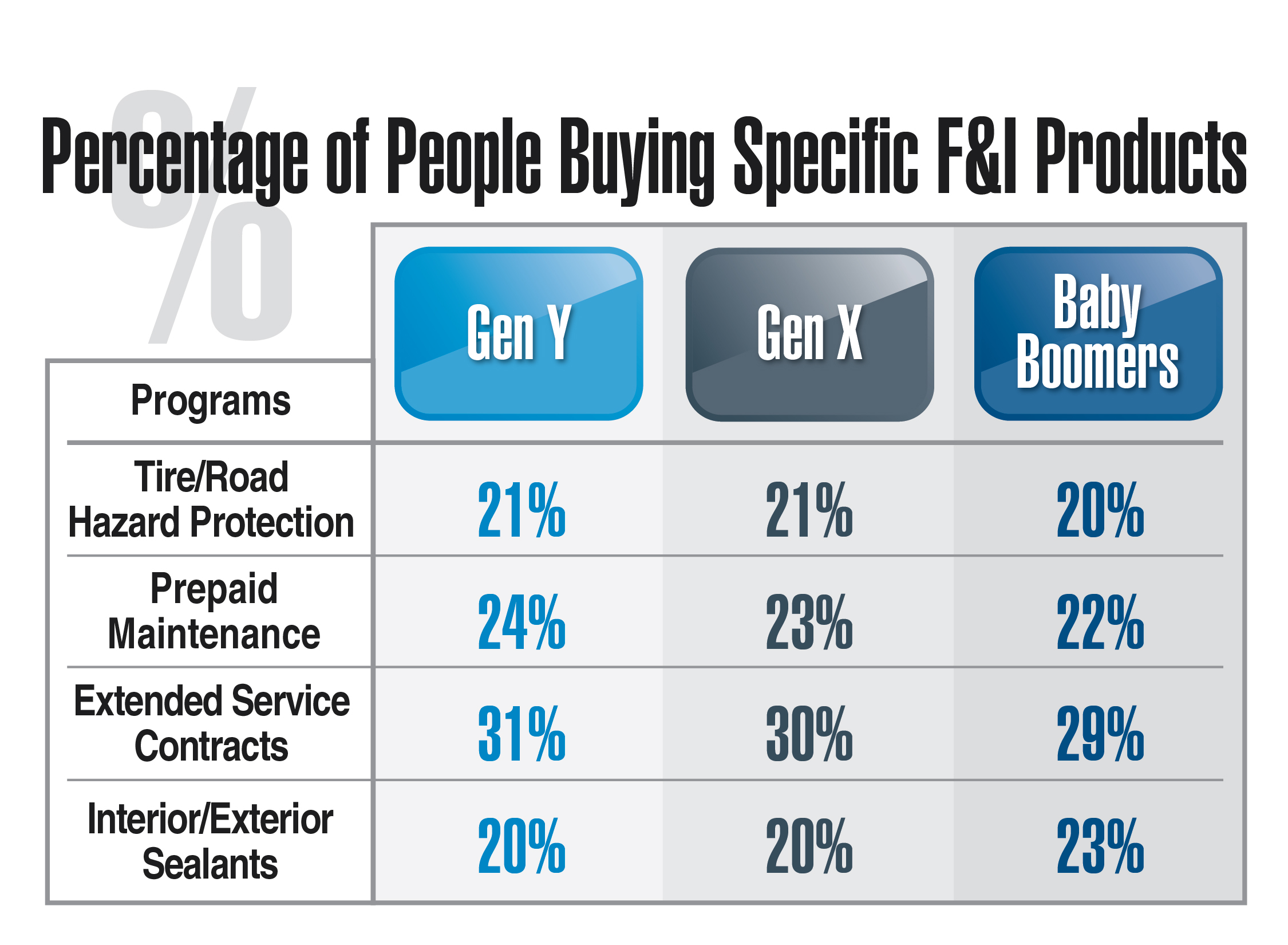 As you can see, the numbers are fairly consistent, and in some cases, the younger generations are slightly MORE likely to purchase F&I products than their elders. Another interesting finding was that dealerships using technology to sell — such as tablets to demonstrate features and record preferences — fared better on CSI scores from younger generation buyers.
In fact, the J.D. Power vice president of automotive retail, Chris Sutton, even went so far as to tell Automotive News that his company's surveys have found that satisfaction scores are "always higher" when technology is part of the sales process, and dealerships that are slow to adapt to new technologies risk falling behind. This doesn't just apply to the Gen Y buyers either since technology and the desire for a sales process that takes advantage of it isn't limited to younger buyers. The Baby Boom generation is spending as much as 19 hours per week online so dealerships that don't evolve risk losing more than just the younger customers.
Studies like this prove that younger buyers aren't looking for a completely different car-buying experience any more than their older relatives are. They want technology to be used to enhance efficiencies and speed the process along, yes; but they are also open to purchasing the same products and protections that their parents and grandparents have purchased for years. We, as an industry, don't need to completely revamp our entire way of thinking and selling as some have suggested. We just need to embrace the right technologies to streamline the sales process and explain the products in clear terms, with no hidden exclusions or clauses (see RoadVantage's True Coverage for more on this). That will show returns in F&I across the board, no matter the age of the buyer.