Compliance Management Solution
Don't be held legally liable for an avoidable mistake.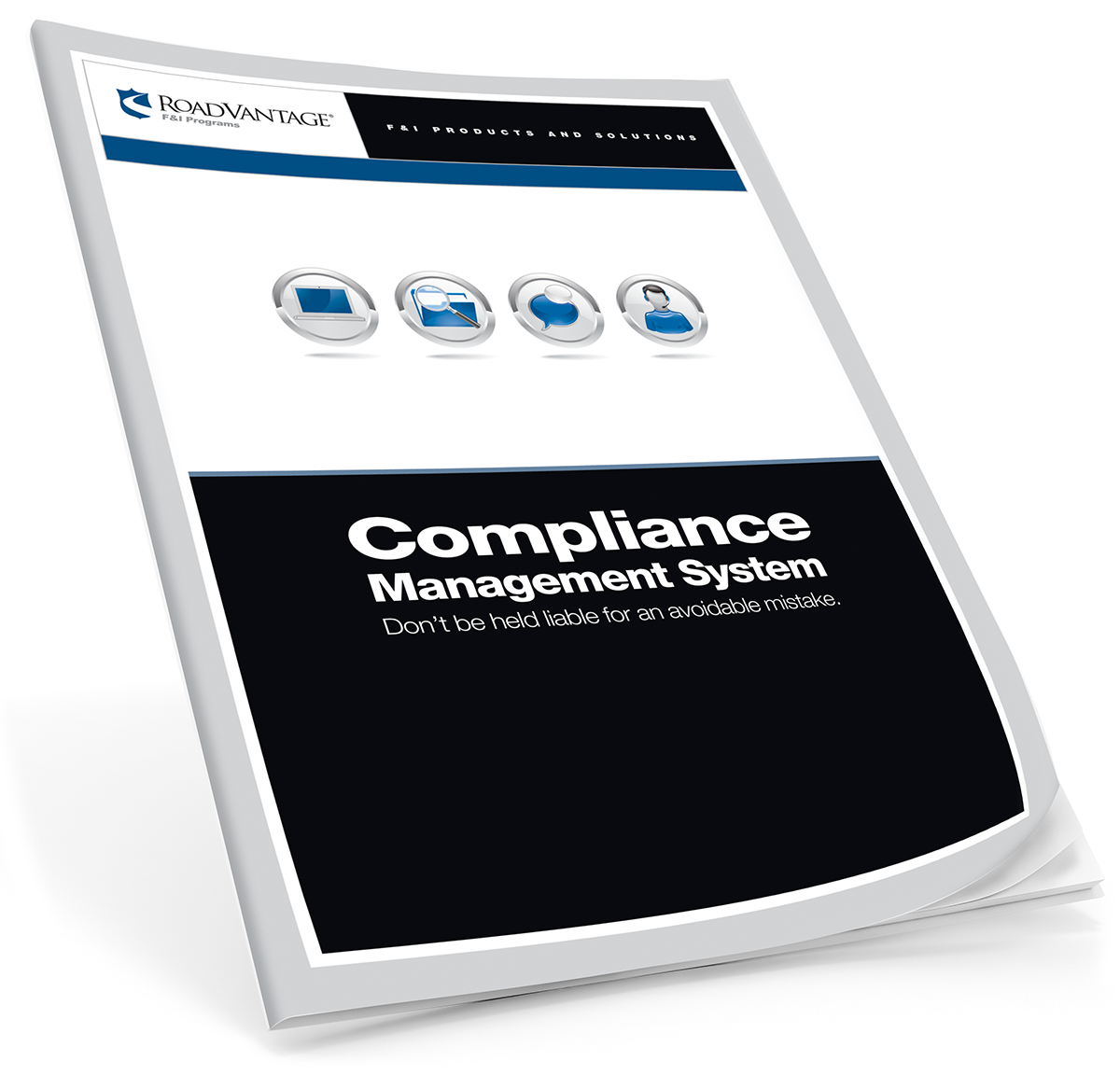 Compliance management made simple, comprehensive, and easy.
Yes, the CFPB expects to see a Compliance Management System in every dealership.
Created by attorneys specializing in dealership defense, the RoadVantage Compliance Management System (CMS) offers a simple and effective way for dealers to address this need. But not just any collection of compliance-related tools will do: A satisfactory CMS requires written policy documents, verifiable training on those policies and the laws applicable to each job description, a track-able complaint resolution system, and periodic review, revision, and written reports via third-party audits.
Policy Management
Customized Policy Templates
In order to provide greater value to dealerships, RoadVantage makes available several dealership policy templates including:
Employee Handbooks
Sales Policy
F&I Policy
Fair Credit Policy
Privacy Policy (Privacy Rule)
Information Security Program (Safeguards Rule)
Identity Theft Prevention Program (Red Flags Rule)
These templates may be customized by specific dealerships to suit their particular situations, subject to review by local counsel.
Online Compliance Training
Policy Deployment & Verification
The RoadVantage CMS provides a paperless means of deploying dealerships' policy documents. Each such document is "hung" on the dealership's unique and branded webpage within the CMS. Every employee is prompted to open the relevant documents, and cannot move forward in the program without verifying that the document has been read, understood, and that the employee agrees to be bound by its terms. The system creates a record of the event; which is archived and can be accessed and tracked through a variety of reporting configurations.
This customized legal compliance training program that educates dealership employees and installs verifiable processes, helping protect dealerships from class certification and punitive damages. Topics are arranged by the job description most likely to need that particular training, as follows:
General Employees
Sales Associates
Sales/Desk Managers
F&I Managers
Accounting Office
Service Department
Parts Department
GMs/Owners
Complaint Resolution System
One specific requirement of the CFPB is a consumer complaint resolution process. This system is web-based, easy to use, and affordable, providing comprehensive reporting with trends, archiving and escalation included.
Documents and formalizes your complaint management program
Complaint types and resolution codes that mirror the CFPB examination manual
Allows you to record, respond, resolve, and remediate complaints in an appropriate manner
Enhances the customer experience throughout the product lifecycle
Increases loyalty, and loyal customers spend much more on products and services
Complaint management validates or invalidates policies and procedures as well as training
Third-Party Compliance Audits
Third-party compliance reviews are an important part of any compliance program. Our 3rd party partner is a nationally recognized Sales and F&I compliance consulting company providing audit services since 2001.
They review a sampling of selected transactions from an off-site location, vetting the paperwork in the deal file against statutory and regulatory requirements. After the file analysis, they analyze and provide their recommendations to dealership management via webinar, and follow up with a written report. In addition, they conduct their review called for under the Safeguards Rule and the Red Flags Rule, and generate the necessary written report for management approval and signature. This helps to protect dealerships against potential fraudulent practices litigation.
Unbiased, independent annual compliance audits
Conducted through remote, encrypted process
90-point compliance review
Includes mandatory Safeguards Rule and Red Flags Rule annual written reports
Written findings and recommendations
Recap meeting via webinar