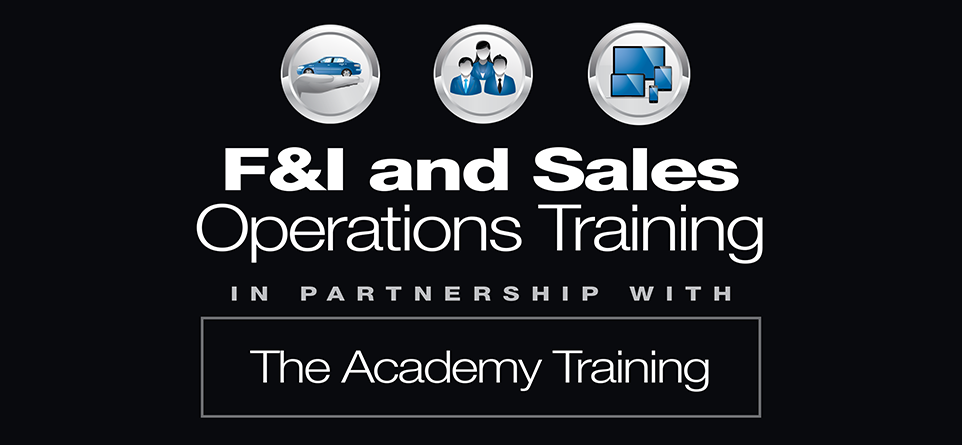 A cutting-edge approach to training, optimized for today's evolving customer.
Today's dealership customers are a new breed of savvy — their shopping habits have evolved radically in the past decade. Has your training program evolved accordingly? Our curriculum is based on The Academy's uniquely developed Y.E.S. sales and F&I processes, which recognizes that a shift in mentality and focus is necessary for today's more informed, Internet-educated customers. Students who attend The Academy experience higher closing ratios, profit margins, and CSI scores.
Our innovative, comprehensive training program includes workshops and classes for new hires, experienced personnel, managers and leaders in a variety of settings, and on a complete range of topics. In addition, we offer supplemental, follow-up training to reinforce the skills learned in our classes and workshops.
Our courses are conducted in the dealership, at the dealer's training facility, a nearby hotel conference room, or at our state-of-the-art training facilities in Austin, Texas. Course are taught by instructors with extensive retail experience and recognized industry expertise.
We also offer self-paced, on-demand online training modules — for cutting-edge training, on your schedule. This email address is being protected from spambots. You need JavaScript enabled to view it. today to get started.
Experienced trainers. Innovative techniques. Proven results.

Course Descriptions   |   Online Training   |   Schedule   |   Course Details   |   About Our Trainers   |   This email address is being protected from spambots. You need JavaScript enabled to view it.
---

F&I Operations Training

---

Y.E.S. F&I Workshop

3.5 Days. Introduces a progressive and innovative curriculum designed for business managers at every level, rookies and veterans alike. Provides a game plan to capture backend profits and maintain high CSI levels. Finance personnel leave the class prepared to maximize growth and compliance. Click here for schedule.

---

Advanced F&I Workshop

2 Days. Continuing education for the experienced F&I manager, after completion of F&I Series 1.

---

Online Training: Virtual Training Network

Ongoing/at employee's pace. Cutting-edge training, on your schedule. It's like having a trainer on staff, 24/7 — on-demand virtual training from your computer, laptop, or smart device. Our interactive curriculum uses engagement triggers to elicit responses from users. Click here for more info and a demo.

---

In-Store Development

A supplemental program to be applied as a follow-up to previous workshops and classes. The purpose is to strengthen and reinforce the principles and processes previously presented in workshops and classes to ensure employee success and deliver higher dealership profits.

---

Variable Ops Training

1 Day. Designed to help salespeople and sales managers better understand the F&I process, the role of the business manager, and the teamwork involved to make the whole process run smoothly.

---

AFIP Certification

2 Days. F&I risk management for all F&I professionals. Course includes federal and state law certification, as well as ethics, regarding business manager and sales manager responsibilities. Gives F&I professionals the regulatory and legal knowledge necessary to excel.

 

---

Sales Operations Training

---

Advanced Sales Workshop

1 Day. For dealerships in need of a tune-up and skills enhancement for today's Internet-educated customer.

The advanced Y.E.S. Customer Engagement Process (limited subjects available due to time constraints)
Creating the buying moment, objection handling, etc.
2 half-day sessions to cover all staff

---

Dealership Reset

4 Days. Ideal for dealerships that need a fresh process for today's customer. This program is faster paced and intended for more experienced dealership personnel. Salespeople gain valuable closing skills resulting in increased profitability while maintaining a fast, customer-centric process. Two 2-day sessions to cover all staff.

---

Sales Management & Leadership Training

2 Days. Management, desking and team leadership course focuses heavily on the management of the sales force, especially millennial salespeople, and addresses daily evaluations and coaching the "why," not just the "how," among other things.

"Boss" vs. "Leader"
How to train and follow the Y.E.S. Customer Engagement Process
Compliance awareness
Strategies for presentation of figures
Reading credit / deal structure
Recruiting and hiring strategies

---

Internet Sales Training

2 Days. Designed for salespeople, sales managers, Internet directors, and BDC representatives. Takes place in dealership, enabling teams to work with dealership technology and resources.

How to respond to different kinds of leads
Effective Internet communication
Implementing video response
And much more

 
---
F&I Y.E.S. Schedule
---
These training dates reflect the current schedule of Y.E.S. F&I Workshops taking place at The Academy's Austin training facility.
January 10-13
February 7-10
March 7-10
April 4-7
May 2-5
June 6 -9
July 11-14
August 8-11
September 12-15
October 3-6
November 7-10
---
Course Details
---
About Our Trainers

Tony Dupaquier
Director of The Academy
Tony has been in the car business for over 25 years. He's held nearly every position in variable operations, from salesperson to general manager, and is a former Nissan National Walk-Around Champion. Tony has been a featured workshop presenter at the NADA convention for a number of years and has spoken at numerous 20 Groups and dealer associations.
Cyndi Guillot
Training Solutions Field Manager
Cyndi began her nearly 20 years in the automotive industry as a dealership receptionist while studying Business Management at the University of Texas-Pan American. Her emphasis on communication skills and strong relationships helped her move quickly into the role of Finance Assistant and then Finance Director at the only dealership in the area with a General Manager and a Finance Director who were both female.
---
For more information or to get started, please This email address is being protected from spambots. You need JavaScript enabled to view it.
Experienced trainers. Innovative techniques. Proven results.